History of the Northwoods Resort
The Beginning
Back in the late 1920's – early 30's, the Carl Whitler family built the Whitler Cabins on Au Train Lake. They would pick people up from the train in Au Train and bring them to the cabins. The road was no more than a path in the woods.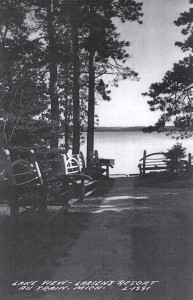 A few log cabins made up the resort. They were #7,which was their homestead, #4, #5 and #14. They all had wood stoves, outhouses, gas lights and iceboxes. In order for ice to be cut for the iceboxes, it had to be cut in early winter so the saws could get through the ice. It was stored in an ice house for the next summer. Wood had to be cut as well and piled up for cooking and heat. Buck saws were used for this job.
In those days the fishing boats were made of wood. Each Spring the cracks were stuffed with oakem and soaked in the lake to prevent them from leaking. Fishing was excellent in the early days. Pike, perch, trout, and an occasional cisco were caught. Hunting, trapping and fishing, along with a garden behind the cabins, kept the Whitlers in food for the long winter months.
Their daughter, Anna Whitler Hicks, became a school teacher for the Au Train School. Some say she was the best ever.
Soon after Carl Whitler passed away, his wife put the cabins up for sale and moved to Marquette. Her daughter then taught at NMU for many years.
The Larsons Resort
In 1948, Fred and Carrie Larson purchased the Whitler cabins. They were from Chicago and probably had visited the place before. So they headed up North for some peace and quiet, and to make their fortune. Fred and Carrie had no children, so they had more time to devote to the business. Carrie had a green thumb and a way with animals. Many of her plants are still growing today.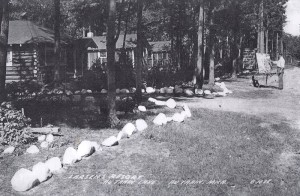 Fred, being a businessman, saw that electricity, running water and gas cooking appliances were a must for their guests. The idea of cabin life at this point changed forever.
In the process of updating and building new cabins, Fred ran across two stills under now #4, the Racoon, and #5, the Doe. Rumor has it that, during the Prohibition, moonshine was run to Escanaba in the middle of the night and sold for profit, or maybe just taken up the road to The Chicago Club. The Chicago Club was the first cabin built on Au Train Lake by men from Chicago. They may have had mob connections. Well, enough of that.
By 1970, Fred and Carrie were up in age and weary from all their hard work, so they put the resort up for sale. Ben McCollum found out about the resort and was very interested. His wife, Gwen, told him that he was crazy if he thought she was leaving her new house and moving to an older home on Au Train Lake.
Ben-Hars Northwoods Resort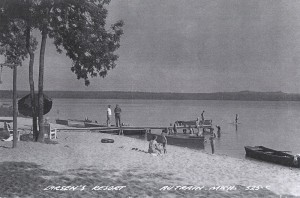 As you can see, Ben won. A partnership was formed between Ben and Gwen McCollum and Harry and Ann Olson. On Halloween night 1970 the move took place. The plan was Gwen & Ann, along with their children Barb and Brad Olson and Pam and Lisa McCollum, would run the resort. Harry would come up from their home in Albuquerque, New Mexico, where he was employed by Sandia Labs, to help in August, and Ben would take time off in July from working at Kimberly Clark. This initially was a perfect arrangement, but the partnership only lasted a few years, as there were too many miles between the two owners. The resort was re-named the Northwoods Resort, and was solely owned by Ben and Gwen McCollum.
Northwoods Resort
Gwen ran canoes for river trips, cleaned cabins, and took care of her family. Ben continued to work at Kimberly Clark, and the resort became a second job. Their daughters Pam and Lisa were 14 and 6 respectively. They weren't too much help, but they sure tried. Pam was in High School at Munising, and later attended NMU from 1976 through 1980 and earned a degree in teaching. Lisa grew up meeting many friends from all over the country. She still keeps in contact with them today. One story that comes to mind is when Lisa came marching in from the beach and said "everyone wants to play with me. I can't take it!" We would all be happy to have had that problem. Gwen and Ben also had two sons, Michael and Jack. They were older than the girls, and had already started lives of their own. They helped out when they were needed.
A cabin was lost to fire during one Thanksgiving. Ben looked out to see smoke coming from the eves of cabin #1, the Fawn. He called to Gwen "Call the Fire Department, #1 is on fire". The hunters in that cabin had gone hunting and left a coat on the heater. The cabin was a total loss and had to be rebuilt.
Gwen decided that it would nice to get people at the resort together for a pot-luck in order for them to meet each other when on vacation. She hated to see them being strangers all week long. It was a big success, and the tradition continues to this day.
After working 24/7 for many years without a summer off, Gwen and Ben were ready to try something new. Pam had graduated from NMU and was not yet employed. She suggested to her parents that she try to take over the resort for them……at least for one summer. They agreed (happily)!
By the end of the summer of 1981, with her first summer under her belt, Pam said "that wasn't so bad". "Hard work and responsibility is good for a person." With help from her parents, sister, and anyone else willing, Pam took over the resort. Ben passed away in April of 1982.
Pam met the love of her life, Ed Kuivanen, in 1983. At that time Ed worked for the DNR as a Conservation Officer. They were married in February of 1984. The plan was for Pam to run the resort and Ed to help out on his days off. They formally purchased the property from Pam's mother Gwen.
Pam and Ed were now the sole owners of the resort. They became the proud parents of a daughter, Erin, born in 1986. Life was good, but help was needed. Gwen watched Erin during the summer and Joellen Swajanen watched her in the winter. Joellen also helped with many of the aspects of running the resort. She still helps out to this day.
Business went on as planned, and by 1990 the resort became a four-season resort. Activities were now available for vacationers at the resort all year long.
In 1992 their second daughter, Amy, was born. Erin's dream came true – she had a little sister. Again more help was needed at the resort. Barb Maki came to the rescue. She started out babysitting but ended up as Pam's "right hand woman!".
The first 10 years flew by. Ed retired from the DNR in 2003. He still claims he fired the wrong boss… oh boy.
Ed insisted that technology had to be introduced in order to keep up with the times, and so a major renovation began. Computers replaced the hand-written accounting books, and wi-fi, microwaves and coffeemakers were added to the cabins. Winter after winter Ed has been busy putting in new kitchens, bathrooms, etc. The old walls have been replaced with tongue and groove pine. Ed insisted that Pam and Barb sand them smooth and triple coat them with varnish. These projects were much needed, and have updated the resort to its current status.
In keeping with Pam and Barb's humor, one day while painting in a cabin, Pam jumped down from a chair and hit a tray full of paint. Paint flew, and with a shocked look Pam told Barb, "go get me some new clothes and the green machine. I'm dripping all over, so make it fast". Barb returned with Ed and the green machine. He just couldn't miss such a sight. After cleaning up most of the mess, we turned on the green machine. We were all concentrating on the paint clean-up and didn't realize that the paint we were cleaning up with the green machine was actually being blown all over the living room! This is when Pam and Barb became known as "Lucy & Ethel". We just couldn't stop laughing. Many stories like this have taken place over the years. Some day we might even write a book about them for you to read.
Erin married Jake Miller on December 30, 2011. It was a beautiful wedding. Jake is an avid outdoorsman and an all-around good worker. He fits right in. They relocated to Burns Harbor, Indiana, due to Jake's promotion to Area Manager with Buffalo Wild Wings. In Indiana, they welcomed two boys– Henry and Benjamin (2.5 years apart in age).
In the Spring of 2017, Erin and Jake made the official decision to purchase the resort from Pam and Ed and move the boys back "home!" It has been a whirl-wind of exciting changes and we are so proud to be able to carry on the family tradition while work hand-in-hand as husband and wife.
Many of the guests that came to the resort in the 70's are still coming back today! From our family to yours– Thank you making us your UP vacation destination!!