The Au Train River
Paddling fun on the fabulous Au Train River
The Au Train River is a gentle river as it wanders through the Hiawatha National Forest. You will paddle by a few cottages along the river and then enter the wilderness of the Hiawatha National Forest. Keep your eyes open for wildlife as they come down to the water to drink or watch for birds flying overhead. The river passes through a couple sloughs where you might see great blue herons or ducks swimming in the water.
Be sure to take a snack or a picnic lunch and don't forget your camera. If you are going to fish, you will need a Michigan fishing license.
The Au Train River is the home to Walleye, Trout, Perch, and a variety of other fish. Anglers might like to fish the Steelhead runs in the spring or the Salmon runs in the fall.
Enjoy a beautiful summer day in the Northwoods with a paddle down the Au Train River or a boat ride on Au Train Lake.
Northwoods Resort to Riverside: Approx. 1 hour
Riverside to Doucette: Approx. 3 hours
Riverside to Lake Superior: Approx. 4 hours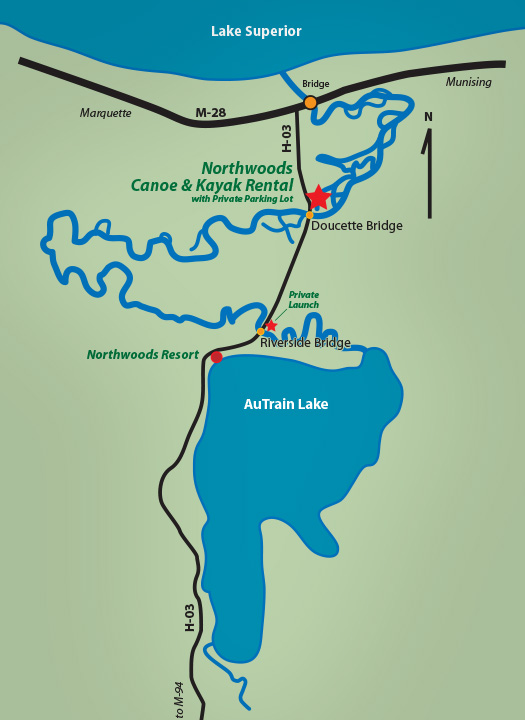 Note: Northwoods Canoe & Kayak Rentals operates under special use permit authorization with the US Forest Service-Hiawatha National Forest and we are an equal opportunity provider.