Winter fun & relaxation
Northwoods Resort is a great four-season resort. Located just south of Lake Superior, we get an abundance of lake-effect snow throughout the winter. Au Train is well-known as a scenic winter wonderland and is the perfect location easily accessible to a variety of outdoor events for all ages. Enjoy relaxing at the end of your day in one of our comfortable cabins. A U.P. experience you'll never forget.
Winter things-to-do
Snowmobiling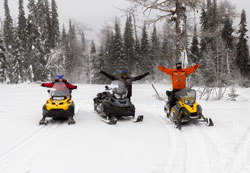 The U.P. is known for its great snowmobiling and we are located right in the thick of it! With tons of snow and a top-notch snowmobile trail system, we are located right off of trail 8! If you don't own a snowmobile that isn't a problem as there are rental outfitters in the area.
Ice Fishing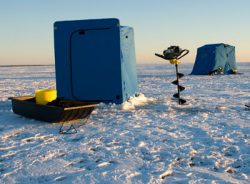 Since we are located directly on Au Train Lake, it doesn't get any more convenient for ice fishing. Au Train Lake also offers a variety of your favorite fish species including walleye, pike, perch and panfish. If you're not familiar with the lake, we can point out some of the popular spots.
More about the lake:
Michigan Free Fishing Weekend: Feb. 16 & 17, 2019 (coincides with the annual Moose Lodge Fishing Derby on Au Train Lake)
Cross-Country Skiing & Snowshoeing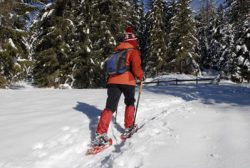 Whether you prefer groomed trails or breaking your own, there are many different options for skiing and snowshoeing close to our resort. The nearby Hiawatha National Forest and Pictured Rocks National Lakeshore offer some amazing places to ski and snowshoe.
Hiawatha National Forest
Valley Spur Ski & Snowshoe Trails – Offering 27 miles of groomed ski trails for classic and skate skiing. Their popular "Snowman" snowshoe trail is a 1.8 loop through the forest.
Bruno's Run – Over 9 miles of trails for snowshoeing or cross-country that wind around small lakes and over gentle hills. Although ungroomed, experienced skiers will still have an enjoyable time in the woods.
McKeever Hills Ski Trail – Offers 6 miles of trails for all levels of experience through some pretty national forest land. The trails are packed and tracked on a weekly basis.
Pictured Rocks National Lakeshore
Pictured Rocks Nat'l Lakeshore (PRNL) offers over 20 miles of groomed trails in Munising and Grand Marais. Although the park doesn't mark specific snowshoe trails, there is plenty of wild country to explore.
Ice Climbing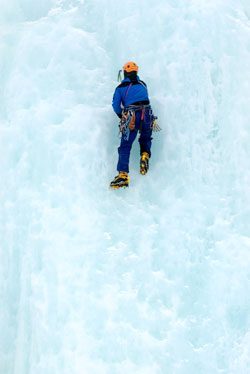 You may not be familiar with ice climbing, but Munising offers some of the best climbing in the Midwest. Ice formations that develop along the cliffs of Pictured Rocks and Grand Island provide some very unique and challenging climbs. A popular festival in February is the Michigan Ice Fest which is held in Munising. This event celebrates climbing and offers a variety of activities for beginners to experts.
Rest & Relaxation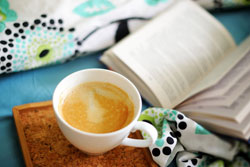 Whether you want to venture outdoors in the snow or just stay in, our cabins are a great place for solitude in the U.P. Watch the falling snow, read a book and enjoy the peacefulness that winter in the northwoods offers. We are the perfect getaway for those looking to escape their busy daily schedule.
Other Things to Do
Here are some other places to explore or events to take in while you're staying with us