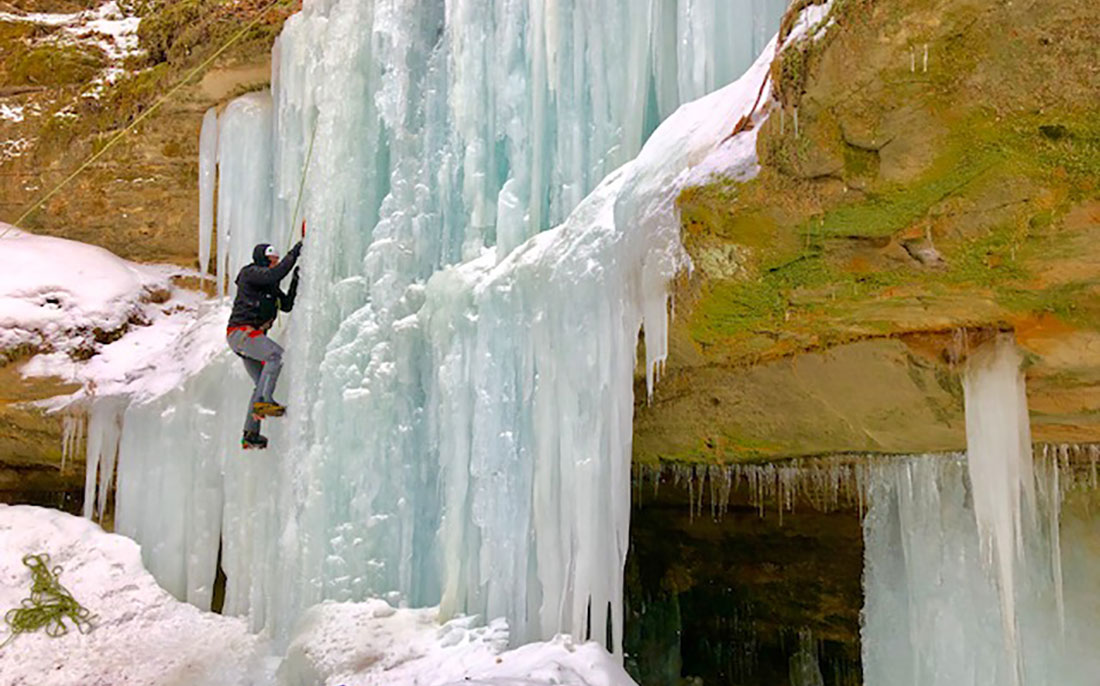 January 7, 2019
So you've planned or are planning a trip up to the Northwoods and Pictured Rocks National Lakeshore this winter and are looking for things to do. We've got a couple great ideas for you!
The winter months offer so many unique winter experiences! Picture yourself ice climbing the cliffs of Lake Superior, dog sledding with an Iditarod team or exploring the Eben Ice Caves! Don't forget snowmobiling through Pictured Rocks, cross-country skiing Valley Spur, ice-fishing AuTrain Lake, and more!
Part 1 of Northwoods Winter Fun will focus on Ice Climbing Pictures Rocks National Lakeshore!
Ice climbing is one of the fastest growing winters sports and our Pictured Rocks National Lakeshore located just East of Au Train offers some of the mid-west's best opportunities!
Whether you are a seasoned climber or are just looking to try it out (me!) the Munising area has the frozen waterfalls and seeps to meet your needs!
Your first stop for an ice climbing adventure starts with Down Wind Sports! Down Wind Sports are the organizers of the Michigan Ice Fest and saw a demand for guiding services beyond the festival weekend. They now offer a guide service November to April (ice-willing). If you just need a pair of crampons or gear, they also rent those!
My husband surprised me with an ice-climbing adventure for our anniversary and I couldn't have been more excited. Neither myself or my husband had any experience— beyond climbing the rock wall a time or two in college.
We arrived at the new Munising Downwind Sports store at 10am and our guide (Bill) was there to greet us! We had packed our appropriate clothing, gloves, warm drinks, and snacks with us in our back pack. We wore our long underwear, active wear, a fleece jacket as well as our heavy winter jackets and snow pants. We brought two pairs of gloves/mittens. We each had a thin pair for climbing and a pair of heavy mittens for when we were watching the other climb. We were then fitted with our helmets, harness, boots, crampons and ice tools. We went over some basic safety and technique then headed for the cliffs! Since this was our first time we opted for inland climbing. (You can also climb over the open water of a Lake Superior but we saved that for our next adventure!)
We met Bill at Sand Point and headed for the woods to find our ice! Upon reaching the seep (an ice formation formed from water "seeping" through the sandstone), Bill climbed up above and set up our safety lines. This gave us an opportunity to look around, explore the ice caves and the view of Grand Island and the East Channel of Lake Superior's Munising Bay.
The ice formation itself was breath-taking and the sounds of the water dripping/running through the ice was so calming.
We then took turns climbing the ice as Bill gave us tips for making our climb easier- hip placement, hooking, etc. We climbed one side of the seep twice and then climbed another side two more times. We had a beautiful windless day and climbing to the top of the ice allowed you to get a new perspective of the area.
You have the opportunity to climb as many times as you'd like— until dark or until your arms wear out (like ours did).
We packed up our things and hiked back out to our vehicles. We met back at the store to turn in our equipment and recap on what an amazing adventure we had!
Book your winter adventure today!
Categorized in: Winter